About Us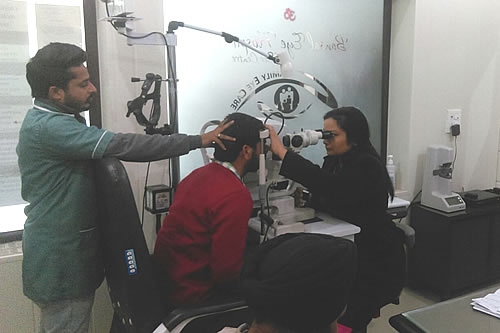 Bansal Eye Hospital & Laser Center
Hospital introduction
Bansal Eye Hospital & Laser Center is a Modern Super Specialty ISO 9001:2008 Certified Eye Hospital Located at 41, Bank colony, Khalasa College road, Patiala.
The Institute was inaugurated on 6th October, 2011 by Deputy Commissioner, Patiala and has made a Name providing efficient, effective and user friendly quality eye care to all sections of the Society through its well designed programs at a down to earth affordable cost, in a clean, healthy and rejuvenating environment.
The Hospital is managed by a Team of well qualified & highly experienced doctors to handle Different types of Eye Problems. The Doctors are trained at leading Eye Care Centers in the Country.
Bansal Eye Hospital offers out patient, in patient, surgical, laser treatment facilities and in house optical Shop, Pharmacy and all types of eye care Procedures & Solutions under one roof.

Why Bansal Eye Hospital Only ?
1. High Standard and ethical Practice.
2. Highly qualified & friendly team of frontline medical professionals backed by equally skilled support staff.
3. Latest Technology & infrastructure.
4. Safe, Comfortable Procedures with strict follow-ups.
5. Patient Friendly services.
6. Economical and affordable packages.
7. One Stop Solution in Eye care.
8. Easy Approach & Location.
9. Committed to international standards.
10. BEH is designed to be a temple for hard work and determination to provide a positive result oriented solution for every eye ailment with a healing touch.

OUR VISION STATEMENT
Undeterred Commitment to the cause of quality eye care and undissipated focus on establishing an international standard eye care centre to service the world class community. To be recognized as an ophthalmic institution dedicated to provide quality patient care with unrelenting attention to clinical excellence, patient safety and an unparalleled passion and commitment to assure the best eye care for those we serve.

OUR MISSION STATEMENT
We at Bansal Eye Hospital, in a caring and Positive environment will provide Excellent & Satisfactory services in eye care through our state of the art infrastructure, equipment, high standard operation theatre, dedicated and competent professionals at an affordable cost, in good faith, under one roof to domestic and international patients .

Our Quality Objective
1. Best quality patient care
2. Judicious use of drugs and appropriate interventions.
3. Compliance with the highest standard of medical ethics.
4. Continued skills up gradation and keeping abreast of latest developments.
5. To carry out all processes right the first time, on time and every time.

Our Quality Values
1. Care, Compassion and Courtesy.
2. Community Health Provider-Patient centric care with value for, money to all sections of society.
3. Timely Intervention.
4. Effectiveness - Sharing Knowledge and Best Practices.
5. Efficiency -Never ending Improvements.
6. Maintenance of highest standard of hygiene and cleanliness.